Spencer used to work as a professional chef, now he's a stay-at-home Dad. He still remembers making that transition and thinking that cooking great meals at home would be a cinch! But he quickly discovered that making meals at home involved waaaaay more than just knowing how to cook.
He knew that he'd have to learn how to cook all over again if he was ever going to succeed at making great meals in his own kitchen.
He's tested old techniques and created new ones to work under the pressure of an at-home kitchen, and here are his favorite tools for getting the job done.
These tools are the essentials and they're universal.
They're meant for everyone, from the accomplished cook to the person just getting started. In a couple of places, you'll see the essential version as well as an upgrade (for those who just can't stand not having the best!)
Tsukiji Masamoto 9.4" Gyuto (traditional or wa-style handle): so you're looking for the best? If you buy anything above a Tsukiji Masamoto, you're paying mostly for aesthetics. I've never loved a knife more than my Masamoto.
Material Kitchen: a DTC brand making great knives at very low prices. Their other basics are also worth checking out. I don't think the "fundamentals" are perfect products with respect to usefulness, but the style and convenience of a one-stop shop is definitely there.
Carbon-steel pans are better than cast iron in every way.
Matfer Bourgeat 11" Saute: absolutely the best performance for the dollar.
Blanc Creatives: the sleekest pans we've ever used in our lives. They will last a lifetime and more without ever skipping a beat. You're largely paying for looks but since you'll be looking at them for a long time, you might not want to cheap it!
extras: Saucier & Wok
This pan is so useful for an at-home kitchen! It also doesn't take up a crazy amount of space like other deep-dish pans.
A work-horse for boils, steaming, stir-fries, and more. They're also super cheap compared to most pans. With a wok and a saucier, you'll likely be able to avoid having any large pots. Hurray!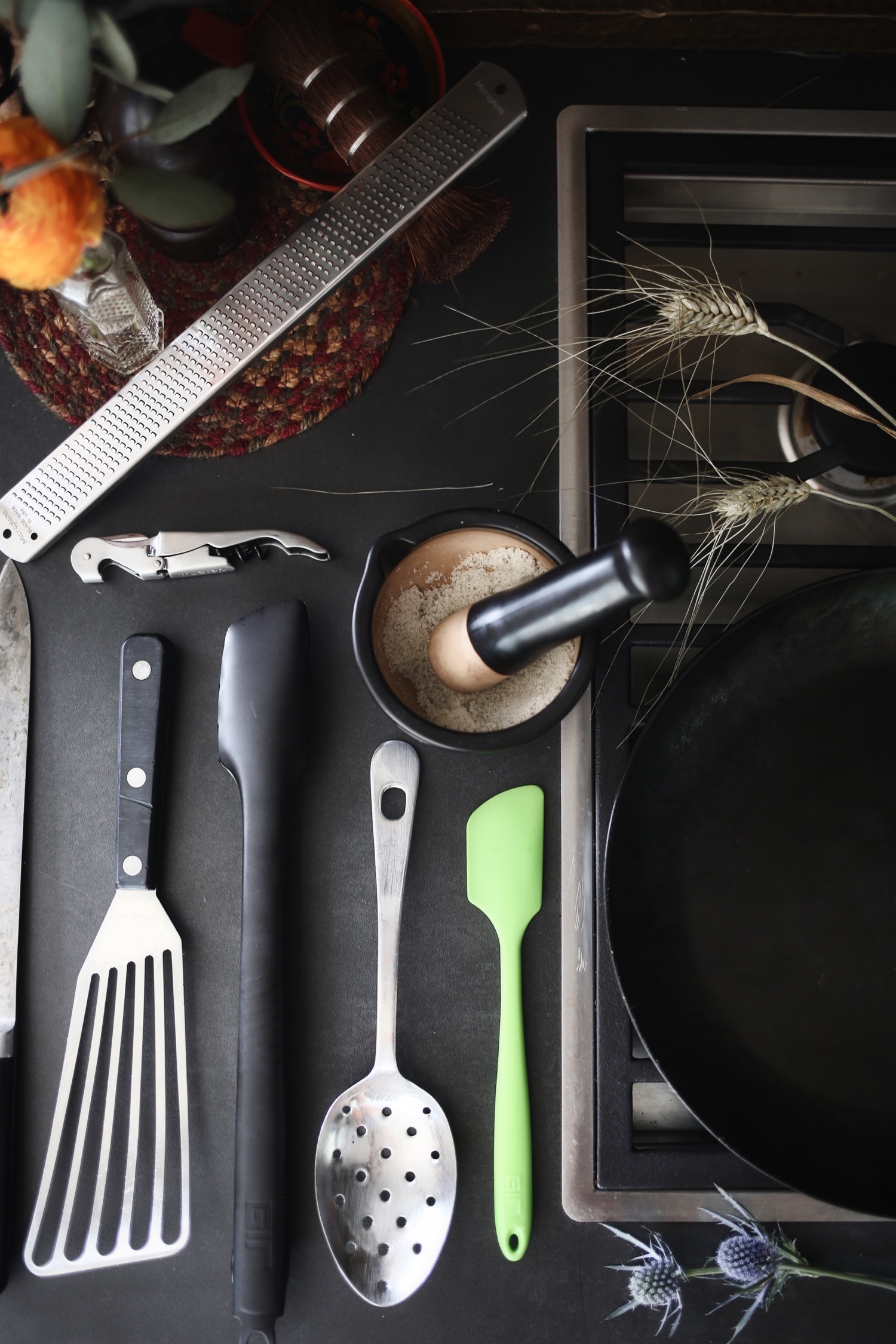 kitchen tools & Miscellaneous Essentials
When it comes to price, quality, and aesthetics, nothing tops GIR tools. Don't even consider another brand if GIR makes what you're looking for.
Our faves: Ultimate Spatula // Mini Spatula // Ladle // Ultimate Spoonula // Slotted Spoon // Tongs (not yet released, but I've got some and they're AMAZING!)
————————————————————————————--
All of these items should handle 90% of your cooking, but here are a few more things that can move the needle:
Peltex Spatula: absolute best style of spatula for flipping
Microplane: an eternal tool essential for zesting citrus (great ad to salads) and grating cheeses or ginger
Mortar and Pestle: if you're not grinding your own salt and spices, you need to start right now. It's the single biggest thing you can do to improve the flavor of everything you make.